Custom Designed For Your Event!

This paper contains Crumbled Purple Carnation and Plumosus Fern
These sheets of sturdy handmade paper are formed one at a time with a mould and deckle. They are made with 100% post industrial waste and are 100% tree free, acid free paper.
This picture shows you a possible combination for a custom mix of flower petals, not an existing stack of paper, we make it to order. To order it just as it stands, please use the add to cart button. It will ship one week from today. If you want it with flower seeds, just ask!
$12.00 - 18 inch x 24 inch sheet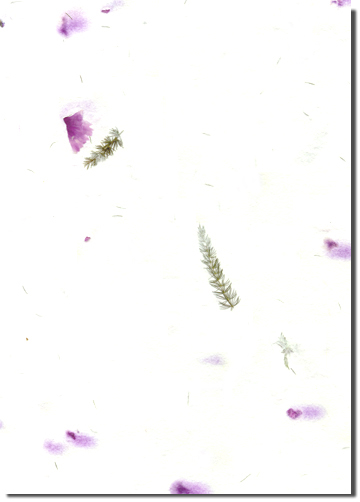 (picture shows a 5x7 inch detail)
As this is made to order there is a 15 sheet minimum.
This picture shows a 5x7 section of our larger 18" x 24" full handmade paper sheets. Tearing our paper into the smaller invitation sizes preserves the natural deckle edge look on all four sides of the card. We print directly on the smooth side of our handmade paper even if it contains flower seeds (with a few exceptions). You can hang a vellum overlay over the textured side of our paper (pictured here is the textured side) if that look appeals to you more.

Copyright 2018 All Rights Reserved - Of The Earth 7706 Aurora Ave. N, Seattle, Washington 98103
Local/International 206.462.7022, Fax 206.462.7024 Toll Free US 1.888.294.1526
Paper
Invitations
Kits
Ribbon
Favors
Supplies